Wayne Bennett future: High-powered push for Bennett to remain at South Sydney Rabbitohs
South Sydney don't want Wayne Bennett to leave and discussions are in place for him to stay. BUZZ'S HIGHLIGHTS, LOWLIGHTS
February 14, 2021 - 8:00PM
News Corp Australia Sports Newsroom
The South Sydney Rabbitohs are in a similar position to Melbourne Storm and Craig Bellamy with their coach Wayne Bennett.
They don't actually want the old super coach to leave at the end of the season.
Jason Demetriou will take over as head coach at the Rabbitohs from 2022 onwards but chief executive Blake Solly has spoken to Bennett about staying on.
There is a role to be created as a director of football, the same as the Broncos, Storm and the Sharks are offering Craig Bellamy.
The difference is that Bellamy is ready to step back at the end of the season while Bennett hasn't lost the bug for coaching.
Bennett hasn't totally rejected the offer from the Rabbitohs but he is not yet in a position to make a call on his future.
The Rabbitohs hope Wayne Bennett will stay. Picture: Ryan Pierse/Getty Images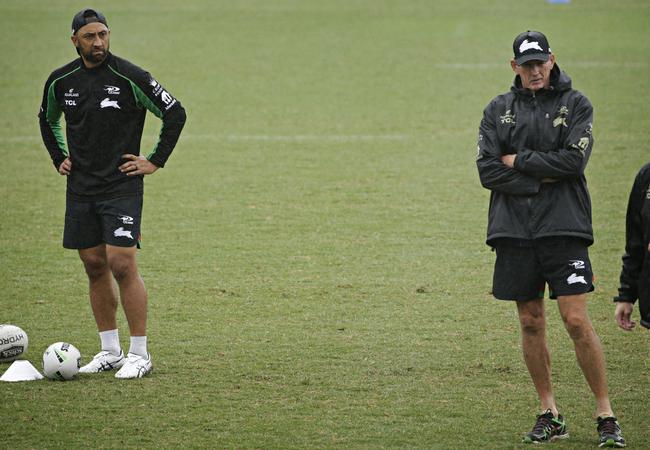 New signing Benji Marshall with Wayne Bennett at training for South Sydney at Redfern Oval. Picture: Adam Yip
He will wait until June when a decision will be made on the new Brisbane franchise in an expanded 2023 premiership.
All three groups bidding to become the 17th team in south-east Queensland would want Bennett as the face of the franchise.
It would be highly unlikely he could stay at Souths in a director of football role why setting up the new team.