Souths star Alex Johnston on track for Ken Irvine's tries record
If South Sydney winger Alex Johnston can replicate his past seven seasons, he will become the greatest try scorer in rugby league's 113 year history.
Dean Ritchie
February 25, 2021 - 7:20PM
News Corp Australia Sports Newsroom
DAILYTELEGRAPH.COM.AU1:19
He has scored 106 tries in seven NRL seasons.
If South Sydney winger Alex Johnston can replicate that identical number of tries over the same numbers of seasons, he will become the greatest try scorer in rugby league's 113-year history.
That record has been held for nearly 50 years by legendary Ken Irvine, who retired in 1973 after a 212-try career with North Sydney and Manly. Many have tried to topple ­Irvine, each having failed.
Johnston has scored exactly half Irvine's total tries and is just 26 years old. And in a remarkable admission, Johnston revealed he wanted to play – injury and luck permitting - until he was 40-years-old.
Should Johnston repeat his existing try scoring heroics over the same seven-season time frame, he would equal Irvine at age 33. It won't be easy, but it's certainly attainable.
Johnston said this week he would target becoming South Sydney's top try scorer before then targeting Irvine. He is currently third on the Rabbitohs' try scoring honour board behind Benny Wearing (144) and Nathan Merritt (146). Irvine played 226 games for the Bears and Sea Eagles, Johnstone has played 144 games.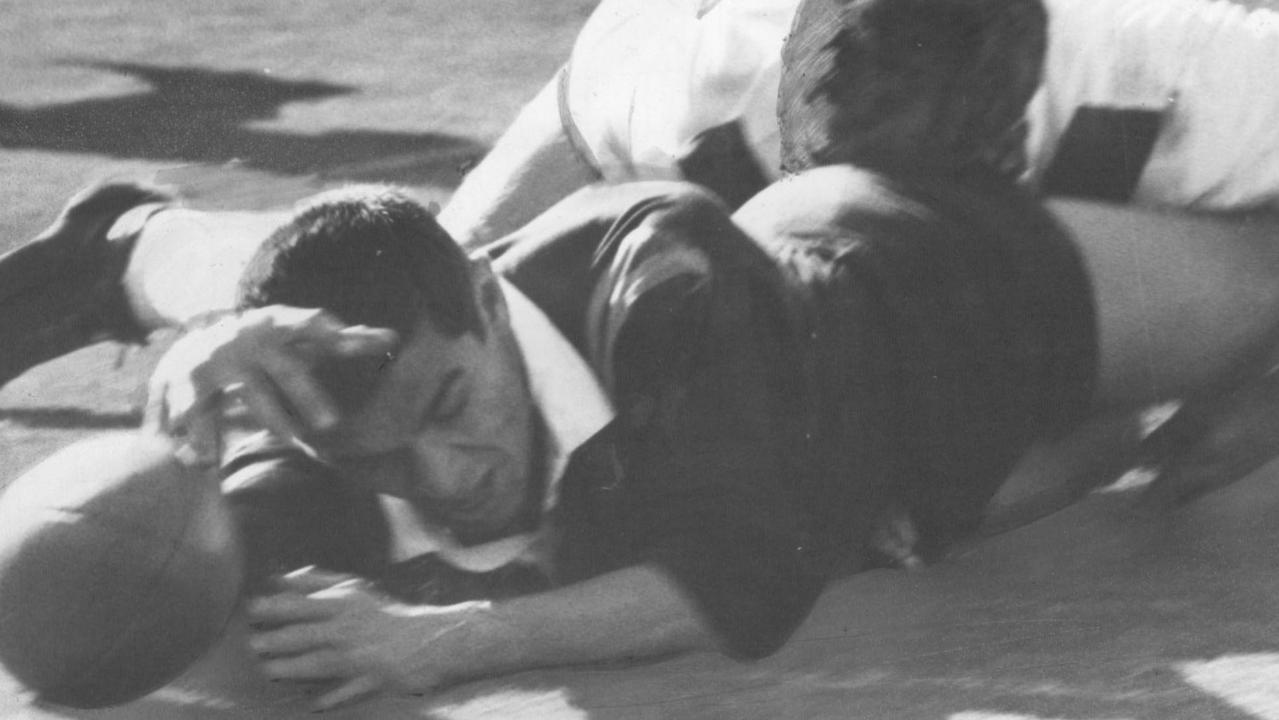 Rugby league legend Ken Irvine owns the game's try scoring record.
"I have another two years here (on his current contract) and I just want to score as many tries as I can," Johnston said. "There is the record here at South Sydney, Nathan Merritt. I think that is the first target for me and if I knocked that off, then maybe in the future we'll look at Ken Irvine. That would be a dream come true to get that far. I know Ken Irvine has the record for most tries but I don't know too much more about him. But first things first, that's a long way off and anything can happen.
Alex Johnston is a try-scoring machine. Picture: Mark Kolbe/Getty
"I have some goals. This year, I just want to get around that 20 tries again, maybe more, and hopefully win another Ken Irvine Medal (an award he claimed in 2020 for most tries scored in a season).
"That's been a goal of mine for ages and I don't want to end with one. Going back-to-back would be awesome.
"I'm about 40-something behind Nathan so hopefully over the next couple of seasons, touch wood that I'm injury-free, I can wrack up maybe 20 tries a season and get it.
"Nathan Merritt was just a freak. He would show up on the other side of the field to score a try. If I can be anything like that, I will be stoked. He is a legend of South Sydney for a reason, he was a prolific try scorer and someone I definitely look up to and hope to recreate some of the magic he did on the field.
"I'm 26 and, again, touch wood, and if everything goes right, hopefully I can play until I'm 40 - be as old as 'Sutto' (John Sutton) and a fossil. That would be awesome."
Johnston will take his place on the Souths wing for Saturday night's annual Charity Shield against St George ­Illawarra in Mudgee.
Alex Johnston is eyeing off a couple of try-scoring records. Picture: Cameron Spencer/Getty
He was controversially told to exit the club last year before being re-signed after a backlash from fans, members and an online petition.
"You score a lot of tries by being on the end of some really good shapes and good footy," he said.
"Sometimes you just have to catch it and put it down. Having speed helps as well.
"A bit of instinct goes a long way and this team really helps me by attacking down the left a lot."
Johnston has no doubt Souths will once again compete hard for the title.
"I definitely think we have a team that can do something special," he said. "If we play our best footy, the sky is the limit. We can do anything this season. The Charity Shield this weekend will be a good test and hopefully we're firing going into round one."