Secret NRL report reveals dramatic knee injury increase
As calls for the introduction of an 18th man reach fever pitch, PHIL ROTHFIELD has obtained a copy of a secret injury surveillance report.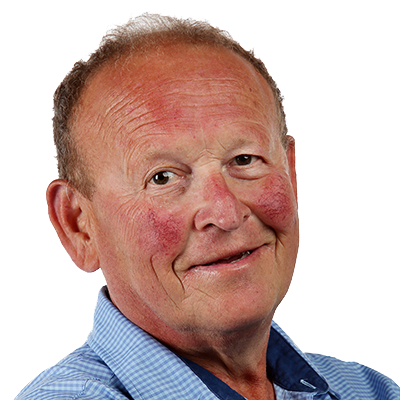 Phil RothfieldSports Editor-at-Large
March 28, 2021 - 10:03PM
News Corp Australia Sports Newsroom
If NRL players were racehorses you would call in the RSPCA after a weekend of a devastating injury carnage.
Rugby league is a gladiatorial game and the toughest body contact sport on the planet but the NRL is expected to approve an 18th man before next weekend to ease health and safety fears and catastrophic injury toll.
The players association has finally had enough.
"We understand we're in the entertainment industry but we're also in the human being industry," says RLPA boss Clint Newton, "We can't have players exposed like they are at the moment.
"The concerns on player health and safety outweigh debate about the challenges and complexities of having an 18th man. It's got to happen now."
Newtown raised his concerns with NRL chief executive Andrew Abdo over the weekend.
It was not a pleasant conversation.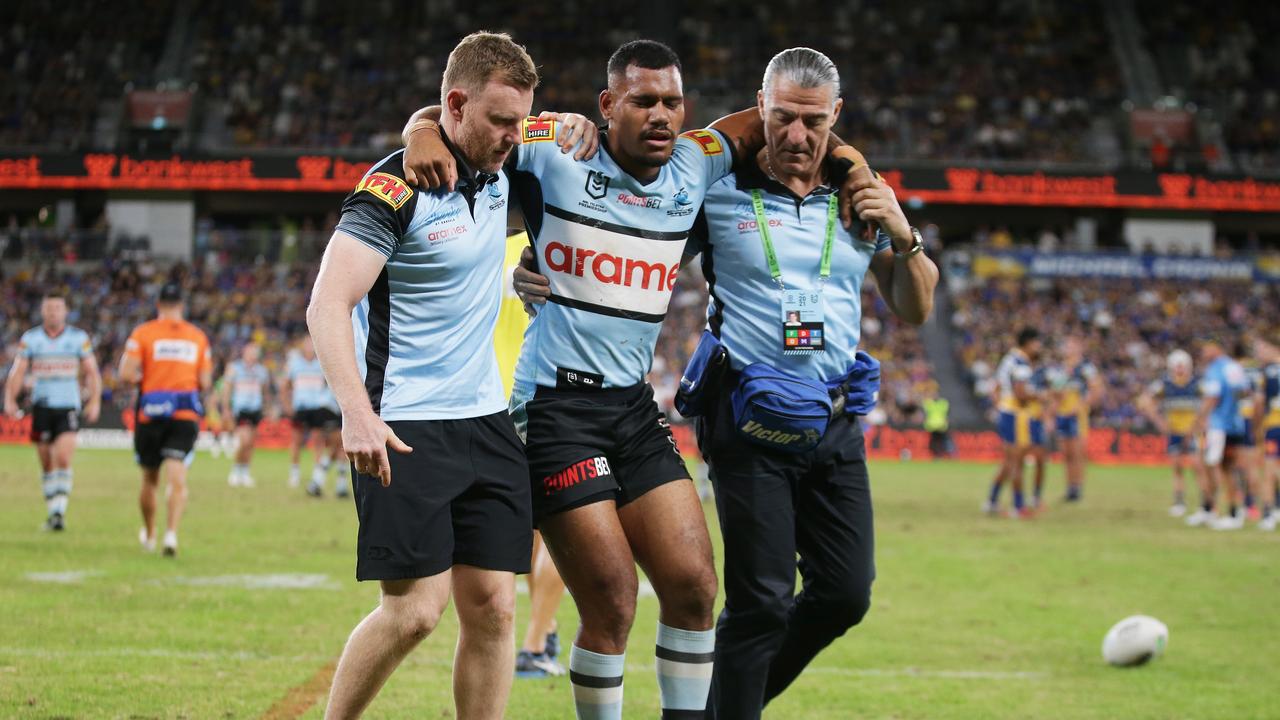 The Sharks lost Sione Katoa to a serious knee injury.
"I want to make it clear that the introduction of an 18th man doesn't eliminate all our current concerns but it would reduce pressure on players in the interim until we work through the impact of these new rules with more data," Newtown said.
"The NRL rightly says it will always listen to the fans in regards to rule changes.
"Well now's the time to engage with the players. They're the ones being heavily impacted and the game has to prioritise their health and safety.
"I can't definitely say that it's definitely because of the rule changes but we've never seen players endure such intensity and fatigue ever in the game's history. There are consequences that come with that.
"I get we're only three rounds in but we need to do something about it now. Otherwise there needs to be a good explanation why not? We've seen them act pretty quickly when it suits them."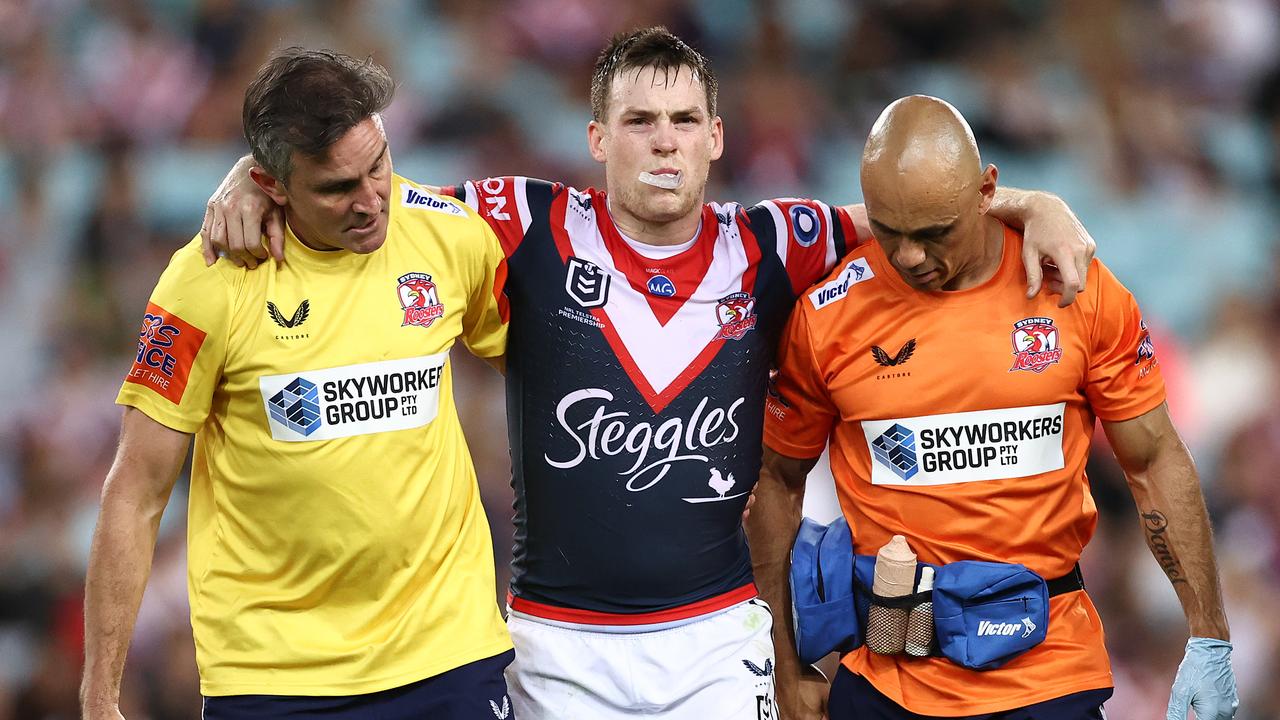 Luke Keary of the Roosters is helped off with a suspected ACL injury (Photo by Cameron Spencer/Getty Images)
The weekend was one of rugby league's worst and most brutal for a long time.
While the Panthers and Storm played a magnificent game on Thursday night, it was quickly overshadowed by the shocking injuries with players falling like dominos across the game.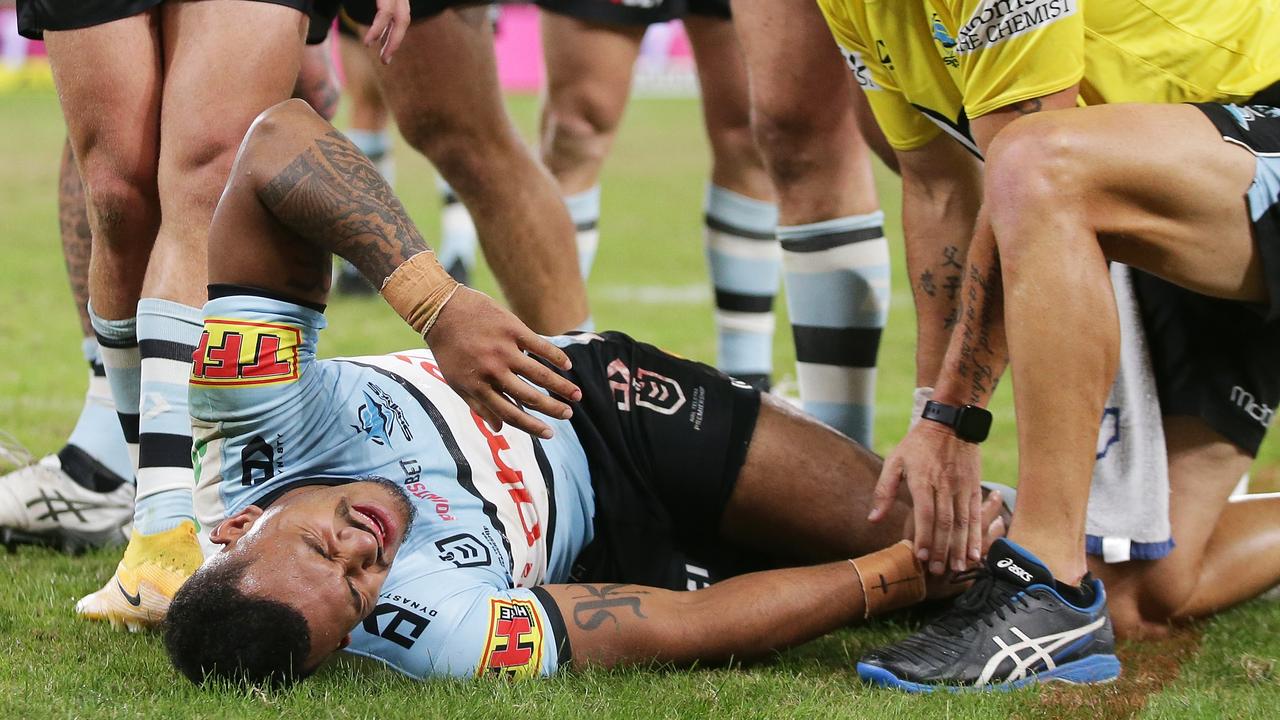 Sione Katoa of the Sharks is assisted after sustaining a knee injury (Photo by Matt King/Getty Images)
The NRL is now seeking urgent advice from medical experts.
There are two schools of thought about the increased number of injuries.
Is it the new rules, the faster game, and the fatigue?
The breakneck speed with fewer stoppages.
Or is it the fact clubs and doctors are now being so vigilant with concussion treatment.
Players that were sent back out after a HIA in previous years are now being treated more conservatively.
"We want clubs to continue to do the right thing but we don't want to tip the scales the other way where teams are left in a position with no reserves," Newtown said.
"You can't have a situation where for half a game there is no-one left on the bench."
There is an argument that the quality of some games is being affected by the number of injuries.
Many would have turned off the Eels v Sharks game when it became obvious the Sharks couldn't compete under the new rules without reserves.
The Daily Telegraph has obtained a copy of an injury surveillance report into the 2020 season.
While injuries overall were down – there were fewer games – the number of knee injuries almost doubled.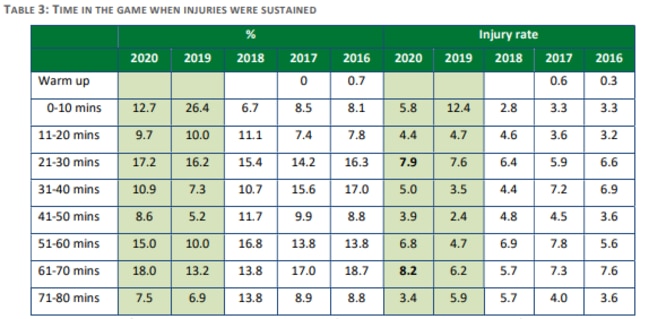 Time of game injuries were sustained.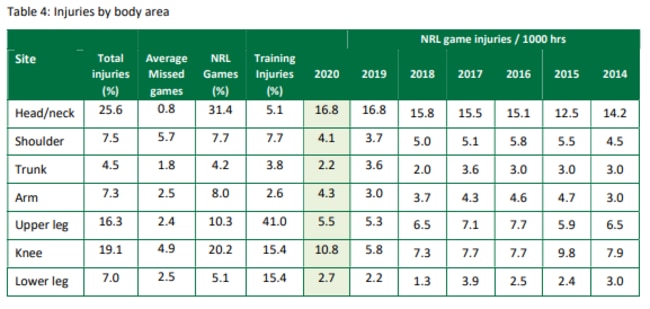 Injuries by body area in 2020.
There were 10.8 serious knee injuries in every 1000 hours of football last season compared with only 5.8 the previous season.
There were 19 ACL injuries compared to 12 in 2019.
Interestingly injuries were up in the third 10 minutes of each half, when fatigue sets in and fresh bodies are coming off the bench.
Not surprisingly the NRL has never publicly released the report.
It's the last thing they need in this time of crisis.