Paul Kent: Wayne Bennett has South Sydney Rabbitohs 2021 NRL premiership window open
This season shapes as Wayne Bennett's likely last shot at an NRL premiership, cementing his legacy and delivering the ultimate square-up to Brisbane.
February 12, 2021 - 5:00PM
News Corp Australia Sports Newsroom
DAILYTELEGRAPH.COM.AU2:17
When Wayne Bennett was in England in early 2007 for the World Club Challenge he walked around one afternoon with a big book with a big black cover under his arm with the alarming title, "If You're Second You Are Nothing".
It was a book about two of the great English managers, Bill Shankly and Sir Alex Ferguson.
The introduction begins with a story on Alex Ferguson in the early 1980s, coaching Aberdeen, slipping on a tape in the team bus and listening to recordings of Shankly talking "big ideas and his observations on the human condition".
Shankly retired in 1974 and in those recordings, made a year after he retired, it sounded like there would be a happy day again before he died in 1981.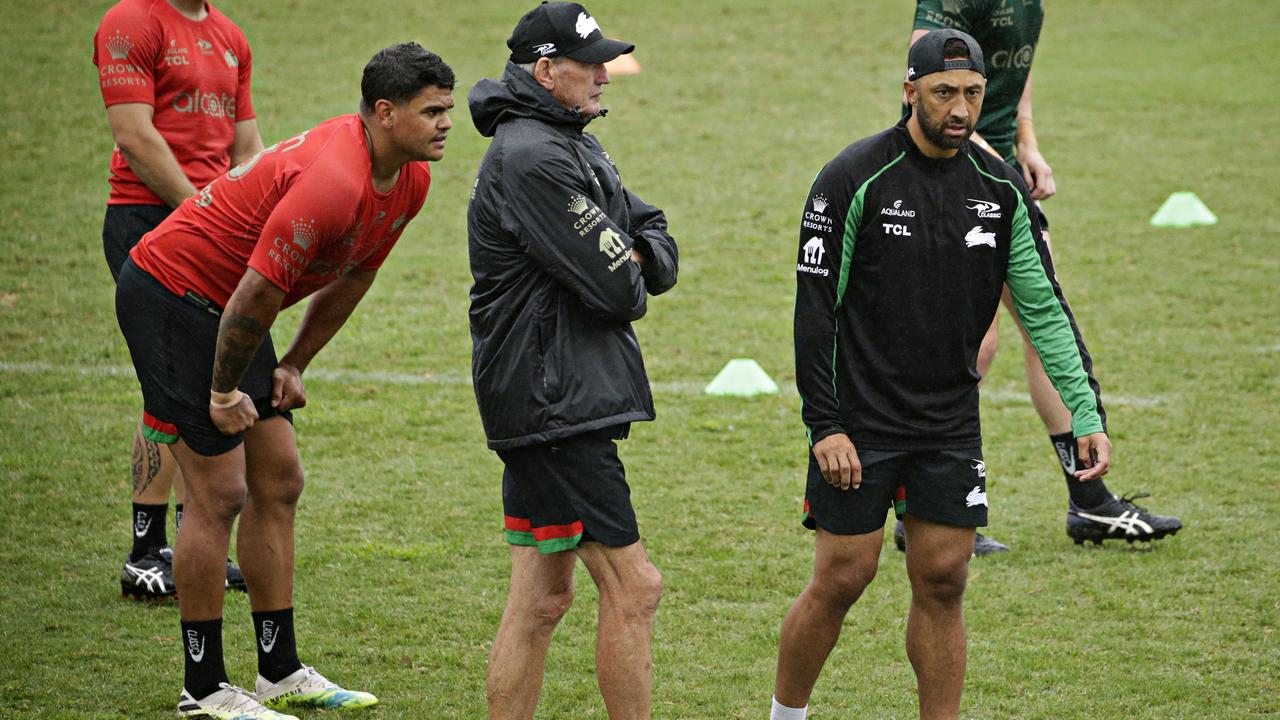 Wayne Bennett has built a premiership-ready team with Latrell Mitchell (left) and Benji Marshall (right) at South Sydney. Picture: Adam Yip
Shankly regretted ever resigning as Liverpool manager. He lost his relevance, his rhythm in life.
He said on the tapes he found himself training every morning close enough to see the players, although "I don't talk to them much."
"From the training sessions I get my bearings," he said, explaining, "If I didn't have the training session in the morning, I would be a little lost."
Ferguson learned the lesson of Shankly retiring too soon, nearly quitting several times himself before changing his mind each time. And so, it seems, has Bennett.
Bennett cares for history, and also knows one of the great benefits of reading is that you do not have to learn all your lessons first hand.
It partly explains why part of his grief at the way he felt he was being treated at the Broncos. He was not ready to retire, like Shankly, and soon he was angry at the effect the Broncos' actions would have on his legacy, something nobody would ever hear him dare say publicly, but something he holds dear.
He felt it acutely, the way the Broncos ran him out of the club.
Eventually Bennett moved on and from the day it was confirmed he was going to Souths his giant square-up for the Broncos was the possibility of bringing a premiership to Souths, convinced it would happen in Redfern before Brisbane.
Now, as he enters his own personal winter, the choice is no longer his.
This season shapes as Bennett's likely last shot at a premiership. He might coach again, refusing to go the way of Shankly and retire too early, but the likelihood of inheriting a team that is premiership ready is slim.
In good news, it also shapes as one of his best chances at a premiership.
Souths are in the best shape to win since he arrived, when he believed Greg Inglis and Sam Burgess would be the building blocks in the team.
Bennett has plugged the gaps their inconvenient retirements caused, with Latrell Mitchell providing the star factor and a young, aggressive pack ready to fire.
With Melbourne set to play without Cameron Smith and the Sydney Roosters without an established halfback the Rabbitohs have the most balanced squad in the NRL, with depth throughout.
Manchester United's Sir Alex Ferguson.
Legendary Liverpool manager Bill Shankly.
Bennett is still learning, though.
The key to Souths' success, Mitchell, walked into Rabbitohs training earlier this season shaped like a Kinder Surprise.
Given all the hopes Bennett has for the season it might have been enough to cause the coach a small tightening of the chest.
It almost certainly would have sparked a swift and severe reaction in the old Bennett.
Not this current model, though.
Souths believe if Mitchell was healthy at the end of last season they were a strong chance for the title. His hamstring tear saw to that, a barrier too great to overcome.
This season, with Mitchell back and Jai Arrow new to the club, Josh Mansour and Tautau Moga also wearing red and green and a young pack another year older, and better, the Rabbitohs are primed.
So Bennett said little when Mitchell walked back into training. It shows the development in the coach.
Latrell Mitchell is pivotal to Bennett's chances at an NRL title. Picture: Phil Hillyard
The key to getting the best out of Mitchell is to keep him happy. No point dropping a lip and sending him out to do four hundreds.
The Rabbitohs plan to play him into shape. Bennett went with a similar strategy last year after the COVID pause, prepared to let his team begin the resumption slowly and improve as the season went on, which they basically did.
There was a time when Bennett coached the Broncos and wanted them to be the fittest team in the competition. Now, he knows they just have to be in shape come finals time.
Mitchell benefits from the new approach more than any of them, which means ultimately Bennett will, too.
But the weight of what this season means to Bennett is being discovered in other ways.
Souths players have noticed he has ratcheted up the intensity at training, driving standards more. The Rabbitohs have lost the past three preliminary finals, the past two under Bennett, and the belief is their casual attitude towards the one-percenters are what has cost them.
So Bennett, aware this is his last great chance to win a premiership, is eliminating the excuses.
Bennett won't discuss life after South Sydney. Picture: Phil Hillyard
He continues to call himself a coach and rejects any talk of him taking a general manager role anywhere, a job you expect he would take only as a stopgap if no head coaching role was available.
What it makes of the legacy he privately cherishes remains to be seen.
Shankly retired while Liverpool was still on the ascent and, as such, his reputation remained unblemished.
Ferguson was there for the beginning of Manchester United's decline and some of his bitter fallouts with club legends tainted his legacy.
Bennett once lived in the real estate occupied by Shankly when he was a Bronco, perhaps even a Dragon, but he has stayed around long enough to make enough errors to see him drift into Ferguson's neighbourhood.
By trying to avoid becoming one he has become the other.
Like a prophecy, it was all there in the book.