We heard on the radio this afternoon that Caorey has been named the fullback for Qld. Can anyone confirm it?
Named on the wing but might play Fullback i haven't read anything offical though
Hasn't he got to serve a suspension for a shoulder charge in his last game for Souths?
Didn't he do that last week?
It's also crazy how Wayne let Corey walk from Brisbane so he could come to us then Wayne ends up coaching him at us and hands him his Origin jersey
It's a bit Steven Bradbury like.
My understanding was that you had to be named in order for it to count as a suspension. We went through the same thing many years ago with Dave Fa'alongo from memory. Corey was not named in the top 17 so I figured that he must still not have served his suspension.
You just have to have had reasonable belief that you would have been picked. Allan is in the squad and would have been a good chance given the end of year form, and the coach would have wanted him there.
If you get named in the 17 it's basically like not naming a player, and that would be a big no-no.
They must've changed the rule. Remember this:
Fa'alogo paying for brain snap
SUSPENDED 197 days ago, David Fa'alogo continues to pay a hefty price for the king hit on Roosters rival Braith Anasta on September 1.
By James Hooper , The Sunday Telegraph
March 16, 2008 12:00am
THE isolation is what eats away at David Fa'alogo. The solitary training sessions.
Suspended 197 days ago, Fa'alogo continues to pay a hefty price for the king hit on Roosters rival Braith Anasta on September 1.
A seven-week suspension from the NRL cost him the chance to feature in South Sydney's first finals experience in 18 years.
Then there was the five-Test Kiwi tour to Great Britain, when New Zealand selectors overlooked him due to his NRL suspension.
But the real blow was learning the Test matches would not be included as part of his suspension, effectively increasing his sentence.
Source: https://www.dailytelegraph.com.au/sport/nrl/faalogo-paying-for-brain-snap/news-story/8dcf75ae556e9f1c250febb4570b8e02
Dave was a member of the NZ squad earlier in the year and was a certainty to be picked. But none of those games counted against his suspension because NZ never named him.
I think the difference is that Fa'alogo wasn't considered by NZ because of the suspension, because it would have served nobody but Souths and Fa'alogo.
Allan was considered by Queensland despite the suspension. Him serving his suspension - in game 2, not game 1 - means he can be picked for game 3.
Corey Allan's one-game suspension being served for Queensland, as opposed to Fa'alogo not being able to serve any of his suspension for NZ.
Thank you… ok
@Callisto one of my favorites. Would love a young him in the current pack.
NRL contract news: Corey Allan's NRL future could hinge on Origin debut
Stuck behind Latrell Mitchell at South Sydney, Maroons debutant Corey Allan is holding a potential $330,000 in his hands at Suncorp Stadium.
Paul Crawley
November 17, 2020 - 6:00AM
News Corp Australia Sports Newsroom
As far as lifetime opportunities go, running out to play fullback for Queensland on Wednesday night could be like winning NRL lotto for South Sydney young gun Corey Allan.
It is understood Allan is currently on a deal worth about $330,000 at Souths but could potentially almost double that if he plays a blinder in the Origin decider.
Until Latrell Mitchell went down late in the season, the chilled-out 22-year-old was only considered a fringe first grader at best.
But after what has been a meteoric rise, he is now one of the most in-demand players on the NRL market.
After being told by Wayne Bennett that he was free to negotiate with rival clubs rather than waste his talent as Mitchell's understudy, Allan gets the perfect opportunity to showcase his skills on the game's biggest stage at Suncorp Stadium.
But there is now even a suggestion Allan is contemplating taking a pay cut just so he can stay at Souths beyond next year. It would mean him moving to the wing, but Souths insiders insist it is definitely a chance.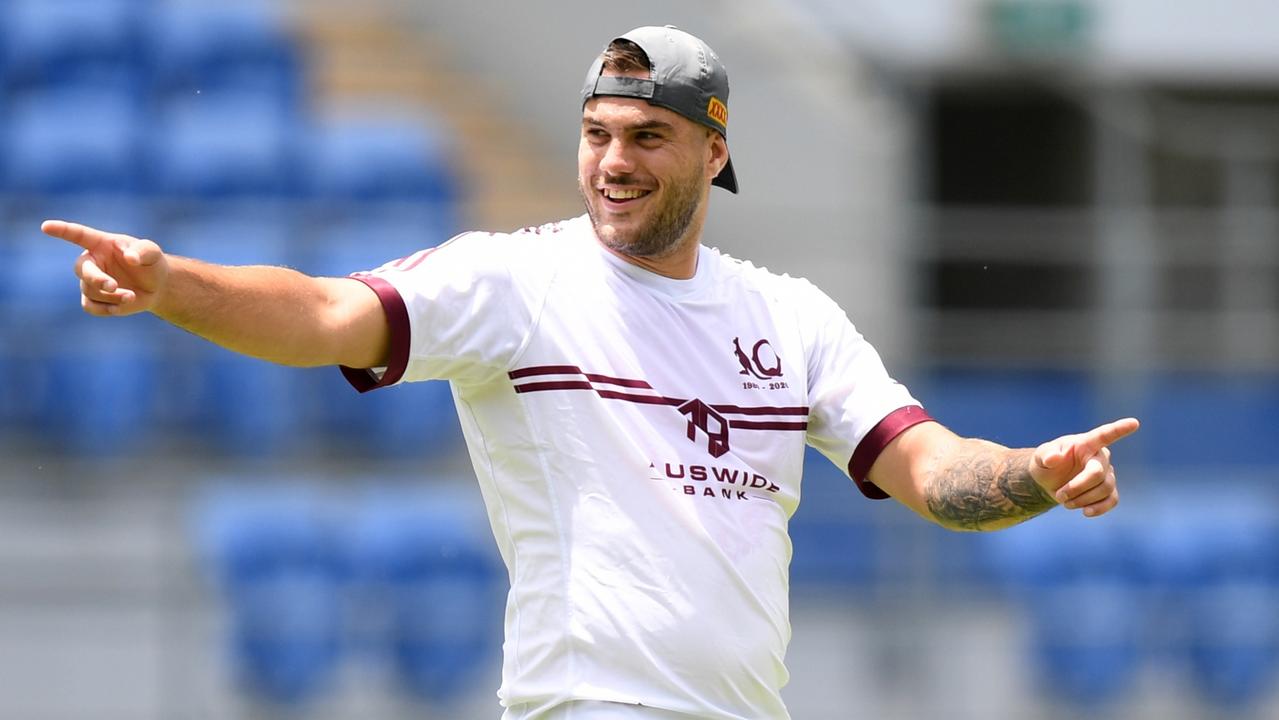 Corey Allan's Origin debut has taken on extra meaning. Picture: Scott Davis/NRL Photos
Of the clubs looking for fullbacks, moving back to Brisbane could be a realistic option given Allan has family back in the Queensland capital.
He would also be a good fit for clubs like Canterbury and Wests Tigers.
His agent Sam Ayoub says he has not spoken to any rival clubs as yet, but those conversations are about to kick off.
"With him going into Origin I have not bothered to talk to anybody about him," Ayoub said.
"People keep saying this club might be interested and that club. I just thought let him enjoy his time in Origin and not be thinking about anything else.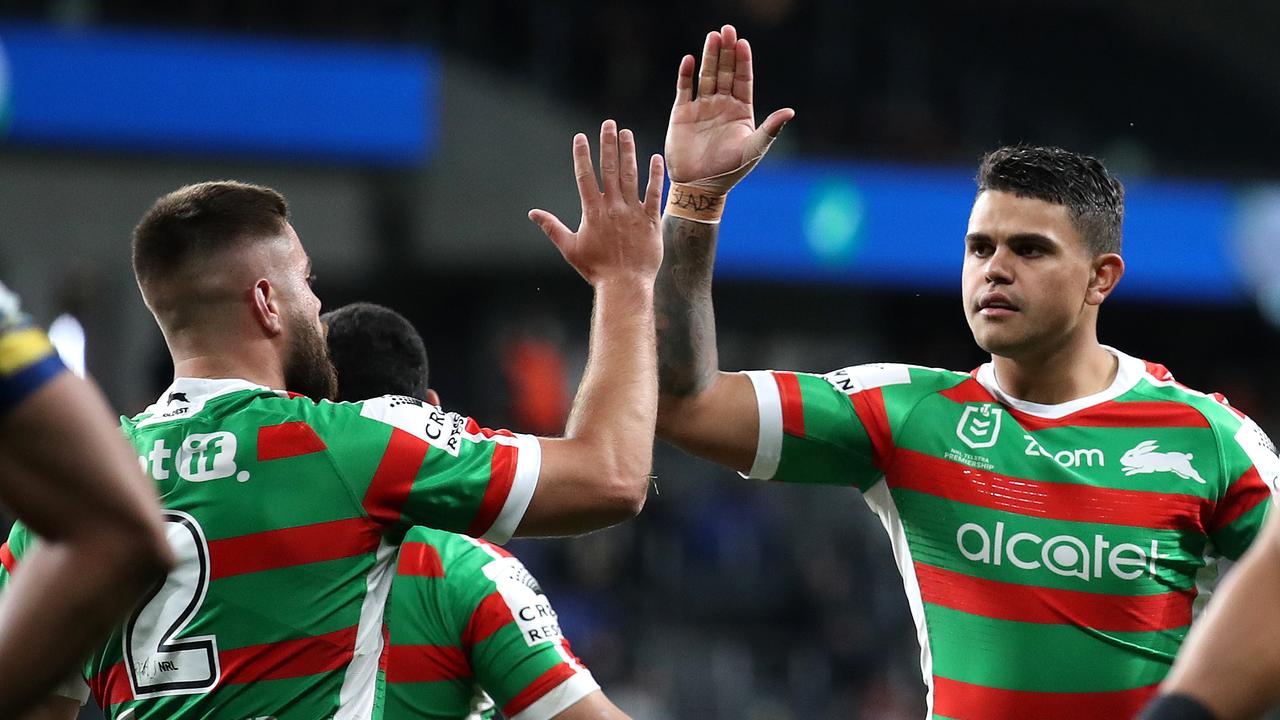 Corey Allan (L) is stuck behind Latrell Mitchell ® at the Rabbitohs. Picture: Phil Hillyard
"Look, even when I had my chat with Wayne, Wayne said, 'we love the kid. He doesn't have to go anywhere. We know he can fill other spots'.
"But Latrell is the concern for both myself and Wayne. When I say that (fullback) is where Corey plays and that is where he plays best, which he showed at the back-end of the year."
Bennett is definitely a huge fan — he refused to concede the Rabbitohs' season was over after Mitchell suffered his hamstring injury against Parramatta.
He even pointed out how Allan had set up a couple of tries in that game after replacing Mitchell.
Asked about speculation Allan wants to stay at Redfern, Ayoub added: "He likes Souths and in his heart he would like to stay there and I don't blame him.
"But if there is a better opportunity for him to play in his preferred position for a longer term on a better deal than it is something we will look into. But we are not tripping over ourselves to get to that point."
https://www.dailytelegraph.com.au/sport/nrl/nrl-contract-news-corey-allans-nrl-future-could-hinge-on-origin-debut/news-story/a62eaad4c12945fea3b38611f551fa32
He already won the Lotto if he's been on 330k a year without playing a firstgrade game.
Hope Corey has a blinder tonight.
Allan is not a winger end of story. His either fullback or not in the side